In Memory of
Farrah Fawcett
Tuesday, June 18, 2019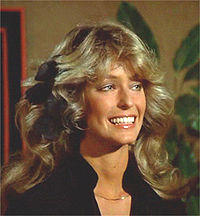 Back Home
New Search

First Names:

Farrah

Also known as:

Ferrah Leni

Last Name:

Fawcett

Birth Date:

02 February 1947

Death Date:

25 June 2009

Age:

62y

Country:

United States of America

Published Notices:

(0)

ID:

74219
Hollywood's penultimate golden girl who represented the all-American beauty ideal , has died after a three-year battle with anal cancer. Farrah Fawcett was only 62 years old. She shot to fame in 1976 when she appeared as private investigator Jill Munro in the famed television show Charlies Angels. Her hairstyle was emulated by millions of woman throughout the world and her poster sales further esculated her as an international sex symbol the 1970s and 1980s . She was nominated multiple times for the Golden Globe and Emmy Awards and married twice. First husband Lee Majors (The Six Million Dollar Man) 1973 - 1982, then days before her death her long time partner and actor Ryan O'Neal. The couple have one son, Redmond O'Neal, born in 1985.

Image/Source: http://en.wikipedia.org/wiki/Farrah_Fawcett.
Farrah Fawcett as Jill Munroe in a 1977 episode of Charlies Angels.

Messages

Messages posted (2)

This page has been archived

Sponsoring opens the page for messages and memories to be left.
There are no limits or additional costs for anyone to leave messages during the sponsorship period.
At the end of the sponsorship all approved messages are archived for access in the future.

Sponsorship does not include a summary of the death notice/s.
Please select the Published Notices on the right hand menu to order a summary.

Sponsorship is anonymous. more info