In Memory of
Carla Lee Morgan
Friday, May 24, 2013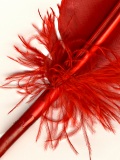 Carla (32), an accomplished horse woman, suffered a fatal kick to the head from her horse as she adjusted a strap behind it. She died in hospital hours after the incident. She is survived by two children.

Messages

Messages posted (4)

This page has been archived

Sponsor this page to reopen it. more info

Sponsorship is anonymous.
Taranaki Daily News 06 Dec 2011
NZ Herald 06 Dec 2011
Waikato Times 06 Dec 2011
Taranaki Daily News 08 Dec 2011
Bay of Plenty Times 06 Dec 2011

Share us via